When Allison was nine years old, she found a white rabbit in the woods next to her home.
It was such an Alice-in-Wonderland moment–without the falling down the hole thing.
The rabbit, named Thumper, lived with Allison and her family until he mysteriously hopped away when Allison turned eleven. That was such a Lassie moment, without the dog thing.
For a time after he left, Allison began to draw the rabbit in an attempt to bring him back to her. He never returned. But so began a love affair with drawing and all things creative. It waxed and waned over the years, as all affairs do, but Allison never forgot that rabbit. The rabbit who taught her to draw.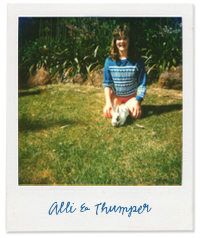 Hi, my name's Allison. I'm a textile designer, illustrator and part-time graphic design student. I live in the beautiful, vibrant, multi-cultural city of Melbourne, Australia.

I have my mum to blame for my fondness of textiles. Mum owned a fabric store when I was in high school and she made me work there every Saturday morning. To my surprise, between the rolls of Satin Back Shantung and Cotton Duck I fell in love. Not with the sewing or the haberdashery or with Simon Barnaby who used to come in with his mum to buy buttons, I fell in love with the prints and eventually found my way to RMIT to study textile design.

Fast forward many years of freelancing later and I'm back at school this time studying graphic design. I'm now a fledgling graphicophile worshiping to the power of good font families, hierarchy and wireframes. My affection for textile print and pattern hasn't faded, rather it's been enhanced by branding and wayfinding and a new found love of publication design.

Currently, I'm working on writing and illustrating my first picturebook. Narrative and character based illustration is a new domain for me so I have to tell you I'm a little afraid. But the challenge and ensuing fear it whips up is all good–at least that's what I keep telling myself. And I think Thumper, wherever those furry little cotton socks of his are resting, would agree.
Contact
allison [at] bigprintlittle [dot] com

Carnegie, Victoria
AUSTRALIA 3163